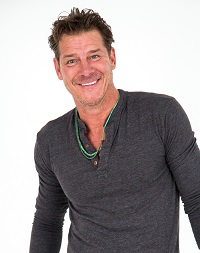 TY PENNINGTON
Design television was never the same once we were introduced to the quirky and creative Ty Pennington. With the groundbreaking home improvement series Trading Spaces returning after a 10 year hiatus, we now have the chance to get reacquainted with Ty as a carpenter, and now as a designer.

Television
The instantly recognizable sound of Ty Pennington's "Good Morning!" became an unmistakable sign of hope for families during his time with Extreme Makeover: Home Edition. That show transformed the lives of thousands, and inspired millions more around the world. Under Ty's leadership, EM:HE was consistently rated among the top 20 of all television programs. It won two Emmys for Outstanding Reality Program, and two People's Choice Awards. On the international market, Inside the Box with Ty Pennington aired on Canada's W Network in 2010. And as part of his ongoing relationship with Great Britain's UKTV Home, his series Homes for the Brave, and the follow up, Ty's Great British Adventure aired with him serving as executive producer. Their focus on improving the homes and lives of soldiers from the British Army led to seasons 1 and 2 becoming UKTV Home's two highest rated television series ever.

Design Work
Additional projects have included Ty Pennington Impressions with WestminsterFabrics, a partnership with industry leader Howard Miller, and the Ty Pennington Style line for Sears. His designs offered fun and stylish home products at affordable prices. He also designed a line of flooring for Lumber Liquidators.
Ty will be appearing on stage at the show on Friday, January 10, 2020.